Greg Beacher
Greg Beacher's Latest Posts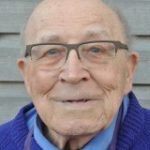 Verulam Amateur Radio Club are saddened to report that Ralph Nash (G1BSZ) passed away peacefully on Friday. He was aged 96. Ralph had been a member of VARC for several decades and we are working with his family to create an obituary which will be published here when it is ready. We all have fond […]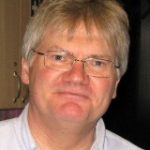 Our VARC April meeting on Tuesday will have a short session on the 2019-20 Club Committee plus a talk/discussion/brainstorm on 'Operating Away from Home'. Peter Baker (G4HSO) says 'I have tried and failed at operating locations worldwide (including /mm from the mid Atlantic), spent hours preparing but little success, however the occasional MAGIC success keeps […]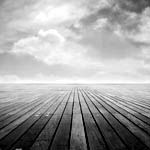 The Shefford and District Amateur Radio Society will be holding the Spring Junk Sale at their usual venue (the hall next door to the chip shop) on the 4th of April. Parking in front of the building and on the street, also in front. Doors open at 19:30 and the sale will start at 20:00.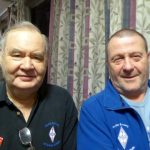 Tom O'Reilly (G0NSY) (pictured left), the RSGB's Regional Representative for Region 9 and Ron White (G6LTT), the District Representative for Hertfordshire and North and East London, attended the club's monthly meeting in March. There was a wide ranging discussion with club members covering ideas for recruiting youngsters into the hobby and increasing attendance by club […]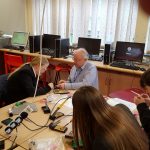 Verulam Amateur Radio Club were proud to support Sandringham School in St Albans with their British Science Week (BSW) event on Tuesday the 12th March. Students built AM receiver kits and operated a radio station using the schools callsign of M0SCY. Here are some photos from the day. On the day, the school made several […]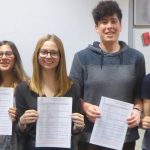 Eight students at Sandringham School, together with two adult members of VARC passed their Intermediate level examination on the 11th November 2018. The two school girl students had previously passed their Foundation exams together just in time to take part in the School's contact with Tim Peake aboard the ISS in January 2016. Verulam Amateur […]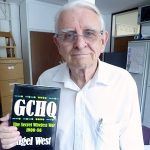 Stan Ames (G4OAV) gave a talk at the July meeting on the role of Amateur Radio in WW2. Stan explained, nothing public was known of radio intercepts and the role of Bletchley Park until an article appeared in May 1976, in the 'Time Out' magazine. The first time radio hams had even been involved was […]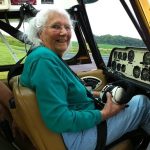 Verulam Amateur Radio Club are saddened to hear that long-term member Jean Faithfull (G0DCU) passed away on June 15th 2018 at Addenbrookes Hospital. Although not active on the amateur bands in recent years, amateur radio was something Jean enjoyed very much and gave her many years of pleasure throughout her life.  Verulam Amateur Radio Club […]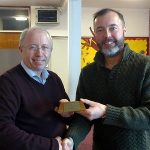 At the AGM in February 2018, Peter King G0OIK (pictured left), was presented with the Chairman's award for outstanding service to the Club. The award is a mounted piece of slate from the Poldhu Wireless Station in Cornwall. Not only had Peter taken part in all aspects of the Club's activities, he had been responsible […]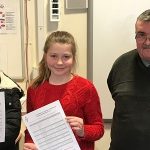 Four students from Sandringham School passed their Amateur Radio Foundation Exam on the 4th February. This brings the total of Sandringham students who have passed in the last six months to over 10 with more in the pipeline.