2018 Contest Report
2018 was another step up in Verulam Club contesting with some very good results. The three main entries were made in the RSGB Club Championships, The Autumn Series and also our annual entry CQ WW CW. I know personally, and also from others I talk to that this year has seen a distinct improvement in our abilities and knowledge in the contesting world.
Club Championships
The Club Championship contests are a series of contests which run over a period of 6 months from February to July, with three contests per month with alternating CW, SSB and Data legs. This 80m contest runs for 1 ½ hours at a time and is an excellent way for members of our club to get involved from their own stations and put their scores towards an accumulated VARC score.
This contest has been a favourite of mine and has provided an excellent vehicle to improve my operating skills and maximise my station. I would highly recommend it to anyone who would like to improve their game, with all the fun and satisfaction that it can bring.
As a club we have been entering the 'general' section of this contest, which allows for members more distantly placed to be able to join in. In this section the competition is a bit stronger, but we still made some good improvements this past year. For 2018 we were placed 5th out of 39 club entries, so a very respectable result.

RSGB Autumn Series
The Autumn series of contests follows the same format as the Club Championships, but runs for 3 months – un-surprisingly – in the Autumn! Again we had some very good attendance for this contest, and we were rewarded with VARC finishing 4th out of 39 club entries.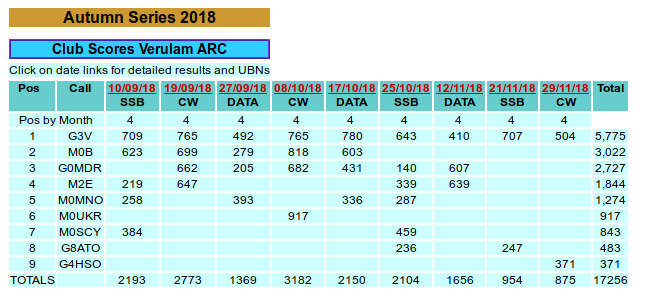 CQ CW WW
Our big annual event is the CQ CW WW which takes place over the last weekend in November, which we run from the cabin on Dunstable Downs. This is a 48 hour contest which runs non-stop over the whole weekend. For this event we had four stations on the air simultaniously, being run by a team of 10 operators. The majority of our team are club members, but we do open our door to a number of guest operators who join us for the weekend.
This is a world wide competition and so this can be a very intense operation when the conditions favour the band you are on, or at times a long slow slog when your band is closed! What often gets sited is the comaradery and good will we get with the team, which leads to a fantastic weekend with everyone pulling out all the stops even at silly o'clock in the morning!
Very many thanks to all who took part on in the contest and especially those who worked through the planning and execution of the event, and to those vistors who provided equipment.
All in all we did very well and surpassed last years, which in itself was a record year.
This years operators were:
Alex M0UKR
David G3YYD
David G4HHJ
Fred G0MDR
Iain G4SGX
John G4KZD
Nigel G0RPM
Peter G0OIK
Peter G4HSO
Richard G3RWL
We look forward to hosting the event again this year, and if you would like to be involved in any way, then you would be most welcome.
Other Contests
There have been quite a large number of other contests that have been run by members of VARC. These contests range from 160m through to 70cm and include the AFS Club Calls contest, the 80m AFS contests (SSB, CW and Data) as well as the VHF UKAC and some of the ARRL contests as well.
Upcoming Contests
This years Club Championship contest has just got under way and as reported above, is a really good series of contests that help bring us together as a contesting team. So I would encourage everyone to get involved with those.
We will also be starting planning for our annual CQ WW CW entry in the coming months. This year there will possibly be a need to do some recruiting for members of the team, so if you are interested then please do let us know. One or two of our regulars may not be able to attend the whole weekend. The ten operators we had last year was really the minimum that was needed to keep all stations on the air, and actually it worked out quite well. But there is certainly some room for more operators and it would be good to fill those places with our own members. If you would like to get involved, then we would love to hear from you.
Hope to hear you on and joining us on the air,
73 Peter G0OIK.