VARC provides it's members with some fantastic facilities. We have our cabin site that is situated on a farm at around 160m ASL. This provides us with a really nice low noise site at a good elevation from which we run our repeaters, remotely controlled radios, run contests and hold our meetings during the good weather summer months.
Currently we have two towers and a pump up mast that are perminantly set up with antennas. One tower is our own (known as the VARC tower) which has the 4 and 6m beam on it along with varying yagis – normally for 2m and 70cm. Above the beams we are planning to have an antenna for the repeater GB3VR.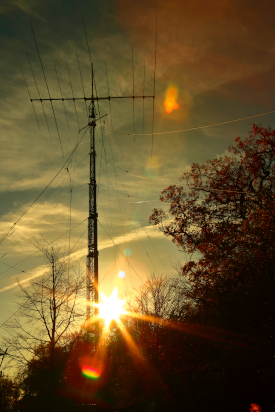 The second tower belongs to the Dunstable Downs Radio Club and so is referred to as the DDRC tower. We share the cabin site with the DDRC club but it seems VARC makes the most use of the set up. The DDRC tower hosts VARC's Optibeam antenna and rotator that runs on 10, 15 and 20m, above that we are planning on putting the four stack (70cm) antenna for the Fusion repeater GB3HA.
Strung from the various towers and trees are a number of dipoles and end fed antennas that are used on the lower HF bands. The end fed covers 80, 40, 30, 20, 15, 10m (and potentially 6 & 4m with low efficiency), which gets used on our remote station along with the Optibeam.
The remote station at present is connected to the Optibeam but we are looking to set up a second remote in the near future to operate on the end fed to cover the lower HF bands. The second remote will be set up in the near future to run on the lower HF bands and possibly the 4 & 6m beam.
Facilities pages
To find out more about the various things that we provide at the cabin site, follow the links below..
GB3HA (Fusion Repeater)
GB3VR (FM and AllStar)
MB7IHA (Echolink)
MB7UO (APRS)
Remote Radio
General Operating
Cabin Diary