What Is Amateur Radio
Amateur Radio, sometimes known as 'ham radio', is both a hobby and a service that uses various types of radio equipment allowing communication with other radio amateurs for the purpose of self-training, recreation and public service.
Radio Amateurs need to hold a license which is issued by the government's agency Ofcom.  There are three levels of license: Foundation, Intermediate and Full (often called advanced).  These are only granted after candidates have passed the relevant examination.  Verulam Amateur Radio Club is authorised to run training courses and hold examinations for all three types of license.  You can find out more about our training here.
Amateur Radio In The United Kingdom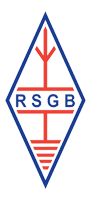 The Radio Society of Great Britain (RSGB) is the representative Society of UK Radio Amateurs at national and international level.  It works to promote and protect amateur radio.  For more information about the RSGB and amateur radio, look at its website here. VARC is an affiliated club with the RSGB.  Individual radio amateurs as well as anyone interested can join the RSGB. Affiliation and membership offers a wide range of benefits.
For more information about licenses and the conditions under which they can be used, look at Ofcom's website here.