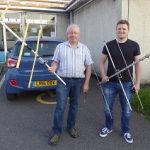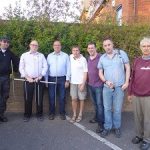 In August the club held a 'Fox Hunt'.  Seven teams gathered at the start point, displaying a wide range of designs of hand held antennas for use on the VHF (2 metre) Band.
Each team was given a sealed envelope with details of the Fox's location before setting off by car.
The Fox made a 30 second transmission once every five minutes allowing the trackers to close in on his location.  The 'yagi' style antennas helped work out the direction that the signal was coming from.
By the end of the evening six of the seven teams had located the Fox and presented their sealed instructions as proof they had not cheated.
It is not known if the seventh team had to stand a round of drinks at the pub.
Category: Club News, Contesting, Field Events