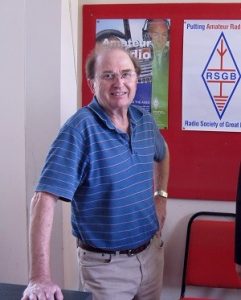 All members of Verulam ARC were saddened to learn that one of its members, Mick Moffat (M0MMI) had died on the 26th May at the age of 73, after a battle with cancer.
Mick was one of the club's most respected members, a lovely person always happy to help others.
He contributed greatly to many of the club's activities for which he was made an honorary member shortly before he died.
In particular he was instrumental in organising the fitting out of the club's field site operating cabin.  He even organised the sale of the caravan, which was the predecessor of the cabin, obtaining a surprising healthy contribution to club funds.
A few years ago he attended an event promoting evening classes.  Mick, then unlicensed, went along to join a class on digital photography.
The class was full so he dropped in to look at amateur radio as he had an interest in vintage radio sets.  A relatively short time later he was fully licensed as M0MMI.  He often joked, as antennas we rigged in the cold wind or rain, that he should have waited for a course on digital photography.  Mick will be greatly missed.  VARC was so lucky the photography course was full.
Category: Club News