Obituary – Brian Cockell (G8BJK)
Submitted By Dick Wells (G8BNR)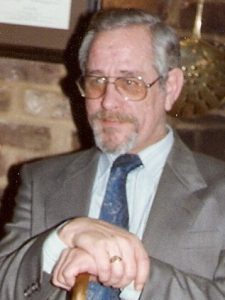 Brian Cockell was the person who, at the age of 18 years while working for Bold & Burrows (the local electronic component/Eddystone supplier) started Verulam Amateur Radio Club, virtually on his own.
He contacted RSGB, read the callbook from cover to cover, listed all of the licensed radio amateurs within the St Albans district and, personally visited all but one on his bicycle!  I visited the last one, Frank Thomas (G3EKU) because he lived close to me.
Brian booked a large meeting room in, what was then called, The Red Lion on the corner of Verulam Road and The High Street. 120 people turned up!  It was an incredible event, particularly to me, I was only a school boy, 14 years old, I think!
The meeting was convened and considerable discussion took place about what to call ourselves.  There had been several attempts earlier to start such a club by Don Hobbs (G3HEO), who ran the electronic component shop part of Bold & Burrows, and Wilf Whitehouse (G3SKB), but they had failed under the name 'St Albans Amateur Radio Society' (STARS).  So it was decided to avoid that name and Verulam (VARC) was born, the rest is history.  Brian must have been very proud of that day and what followed.  He became Club Secretary at the first meeting and remained in that post for a while.
Brian left Bold & Burrows and went to Macaroni, sorry Marconi Instruments, where he worked for a few years.  I found a job with Dymar Electronics, who made radio telephones, and Brian joined me there, he ran the finished goods stores. Brian was, by now, married to Margaret, a teacher who worked at a special school off Batchwood Drive, where they had a flat.  They subsequently bought a house in Watford and the three of us used to meet up every Friday at the Old Fox down School Lane in Bricket Wood for a drink, we chose the place because it was halfway for all of us.
Brian is survived by his wife Margaret and his son.
Dick Wells (G8BNR)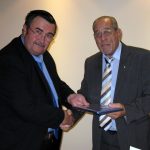 Brian is on the right in the adjacent photograph receiving a book on the life and work of Guglielmo Marconi from Norman Fisher at the radio clubs 50th Anniversary Celebrations.  He played a full and energetic part in all the club's activities for a number of years and he was awarded honorary membership for life.